Fellowships
Finding and applying for fellowship funding
Fellowships are an important source of funding for graduate students and postdoctoral scholars. RDS assists with identifying and applying for fellowship opportunities.
Finding Fellowship Opportunities
Federal sources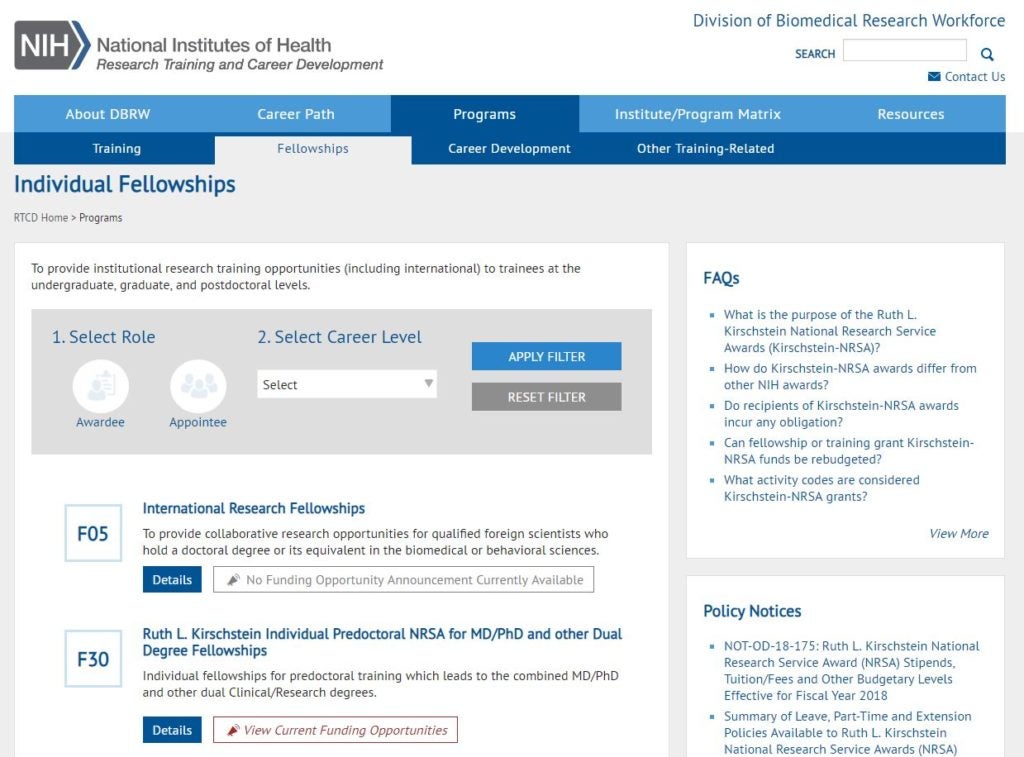 NIH's Kirschstein-NRSA Individual Fellowships (F-Series) are the most commonly applied to at GUMC. These fellowships cover predoctoral (F31), postdoctoral (F32/32), and dual degree (F30) courses of training and research. There are three application cycles per year. Students and postdocs should first speak with their faculty mentors to ensure their research is at an appropriate stage for application. RDS' fellowship coordinator will also meet with and advise students during the application process.
Eligible GUMC predoctoral students and postdoctoral fellows can also apply to the Translational Biomedical Science Program, offered through the Georgetown-Howard Universities Center for Clinical and Translational Science (GHUCCTS). Potential applicants should contact the TBS program directly with any questions and to submit their application.
Students in some programs may also qualify for NSF's Graduate Research Fellowship Program. Eligibility guidelines are very strict for GRFP, so students should contact RDS to ensure eligibility before beginning their application.
Other federal agencies and programs (such as DOD's CDMRP) may offer fellowships GUMC students and postdocs are eligible for. Grants.gov and Pivot (log in with your Georgetown NetID) will both list all current federal fellowship funding opportunities.
Non-federal sources
Non-federal sources are increasingly common sources of support for graduate and posdoctoral fellowships. Pivot maintains a comprehensive database of non-federal funding opportunities, including fellowships, dissertation awards, and postdoctoral awards across all fields of research. Common non-federal fellowship granting organizations are:
Applying to Fellowship Opportunities
RDS' fellowship coordinator will assist students and postdocs with their fellowship applications, ensuring compliance with all sponsor and University guidelines. The RDS coordinator can also help students identify fellowship opportunities or plan for upcoming application cycles. To begin, contact RDS or make an appointment.